Research Services
SPECTCOL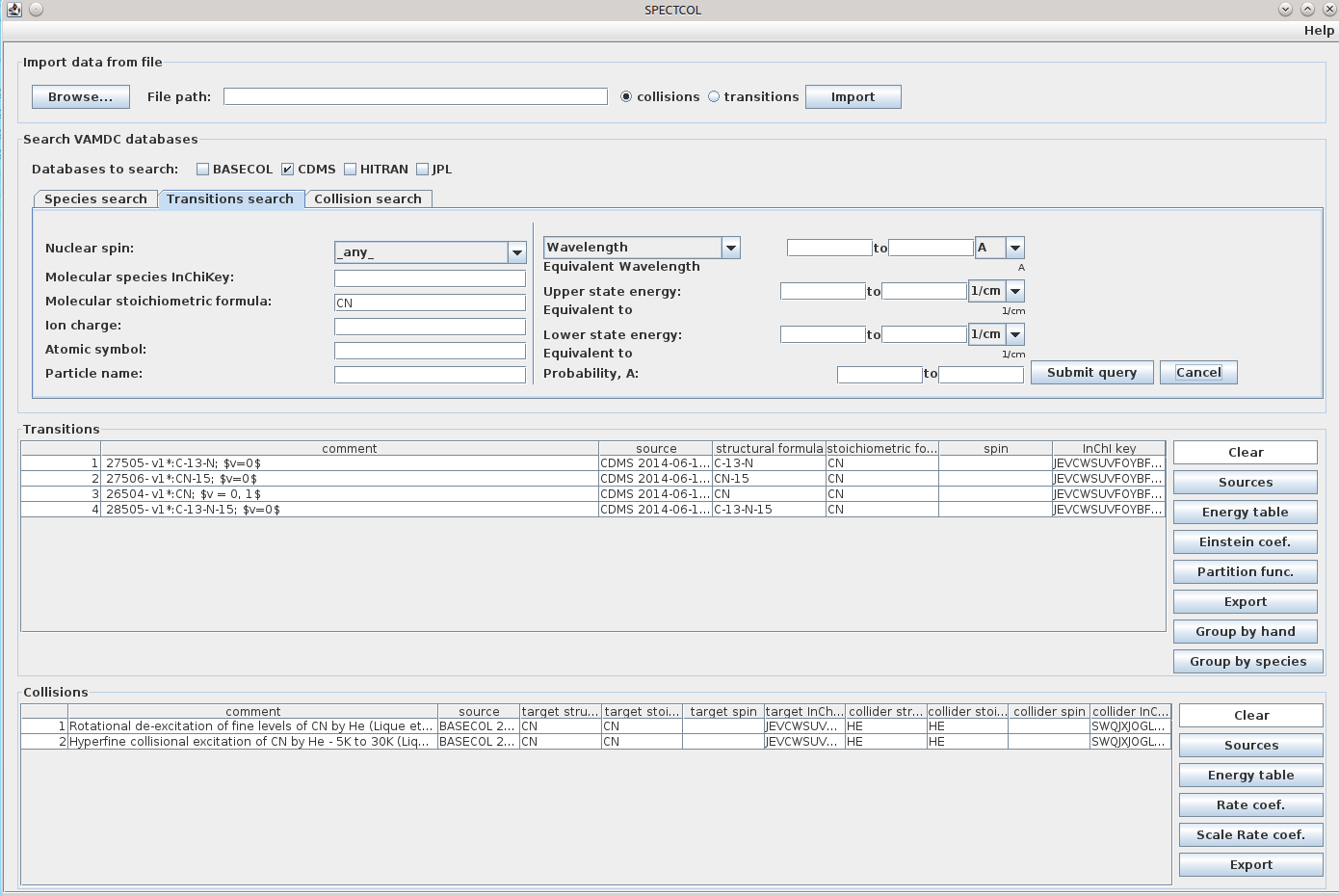 SPECTCOL is a graphical tool implemented in Java. It allows to manipulate and combine spectroscopic and collisional data coming from the databases (BASECOL, CDMS, HITRAN, JPL,…) using VAMDC technology.
XSAMS(Xml Schema for Atoms, Molecules and Solids) is the VAMDC data format and SPECTCOL is able to manipulate and provides methods to convert these data into other formats(CSV, RADEX, LTE …).
For any question or feedback, send an e-mail to support[at]vamdc.eu
Credits:
M.L. Dubernet, Y.A. Ba, L. Nenadovic, M. Doronin
BSD Licence, @VAMDC Copyright
Scientific Use Case-

Accessing VAMDC from a standalone tool: SPECTCOL

The aim of the client tool SPECTCOL is to associate spectroscopic data provided by spectroscopic databases with collisional data provided by collisional databases using the VAMDC technology.

The client tool interrogates the registries to find spectroscopic and collisional information about a molecule. It retrieves different possible sets of data from different databases. The user can associate sets of his own choice in order to create customized combination of spectroscopic and collisional data.

Indeed the usual difficulty met by astrophysical users is to combine collisional data from a database such as BASECOL [http://basecol.obspm.fr] with spectroscopic data coming from other native databases such as CDMS [http://www.astro.uni-koeln.de/cdms], JPL [http://spec.jpl.nasa.gov/] or any other spectroscopic databases. Combination of data implies the possibility to match molecular states that were very often described differently in JPL, CDMS and
BASECOL, and this problem is now solved easily using VAMDC and SPECTCOL.

Tutorial-

The tutorial or quick start on SPECTCOL allows users to pick up the tool easily. This tutorial describes in a simple way the various stages of functions in Spectcol accompanied each time by specific examples. You can also find in the document a user guide which contains more details.

The tutorial is available here.

Version History-

Version 12.07-r2

Released September 2014

-Bug fixes related to the hiperfines data, output format Radex, change CDMS database identifier

-Extension of "Transition search query" part

-Display energy levels diagram

Version 12.07-r1


Released December 2013

– Bug fixes related to the duplicated energy levels caused by state origin
– Display Partition Function
– Allow to select the Quantum numbers for the merging
– Include output spectroscopic data in Radex format (for LTE)

Version 12.07

Released October 2012

– Replace XSAMS 0.3 by XSAMS 1.0
– Include RADEX output
– New table for scaled rates coefficients
– Grouping the species by hand

– Launch SPECTCOL with XSAMS files as arguments in command line mode

Version 12.06

Released Octobre 2011

Version 11.10

First publication Decembre 2010

News-

A new version will be available in 2023.